We hosted the Tuta Carriers St Cathryn's Club Championships this past Saturday 6th and Sunday 7th April 2019, with a field of 17 members playing in four divisions. We also played our Farmers Agri-care Monthly Mug on Saturday 6 April 2019 with a field of 21 players contesting the Monthly Mug. Thank you to our Greytown visitors for their support. We were pleased to welcome back Merwin Rabe to the Club Championships after an absence of a few years ( also got married in between ) In 2014 Merwin won in the B Div with a gross of 156.
Results of the Farmers Agri-Care Monthly Mug :
1st: Mel Labuschagne nett 73 o.c.o
2nd: Fanie van Wyk
3rd: Dieter Meyer nett 76
4th: Merwin Rabe nett 77
5th: Bruce Paterson nett 78
Best Stableford : Fanie van Wyk 35 points
Nearest to pin 9/18: Mark Scott
Best Greytown Golfer : Flip Botha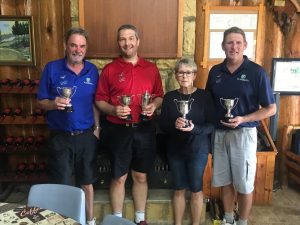 Results of the Tuta Carriers Club Champs:  (Results Gross Scores)
A Div:
1st: Merwin Rabe 157
2nd: Bruce Paterson 167
3rd: Dieter Meyer 172
B Div:
1st: Fanie van Wyk 173
2nd: Marius Muller 177 o.c.o
3rd: Lawrence Savage
C Div:
1st: Mike Harrison 192
2nd: Piet Nel 210
3rd: Andre Liddemore 214
Ladies:
Leonie Coetzee
Nearest to pin 9/18: Dieter Meyer
Nearest to pin for 2 on the 17th: Mark Scott
Longest drive on the 1st: Merwin Rabe
Best Senior: Tienie Muller
Best Nett: Merwin Rabe 157
Club Champion 2019: Merwin Rabe 157 gross
In the A division, playing the 17th – Bruce and Dieter were one shot apart vying for the second position, Dieter Meyer recorded an 8 and Bruce par'ed the hole.
Thank you to all our members for their support – it was as always friendly and social… at the braai fire. But on the course the competiton was stiff, but played in a good "gees". Thank you again to Geoff from Tuta Carriers for his continued support of our Club Champs, we appreciate your support of our Club. To book for golf please phone Piet 0832691661.