The golf course has a temporary first and tenth hole due to the very wet conditions on the fairways, but this did not deter the golfers playing in the "Freedom day" 9 hole chicken run on the 27 April 2022, with nineteen players playing. The winners were:
1st Steve van der Merwe on 19 points
2nd Paul du Preez 18 points
3rd Troy Gifford 17 points o.c.o Mark Scott and Oscar Maartens.
The Midlands Spraychem Match Play finals were played over the weekend 30 April 2022 and 1 May 2022 and the top eight players from the Mascor clubchamps qualified. This year, a lady was part of the finals and one player even travelled down from Gauteng.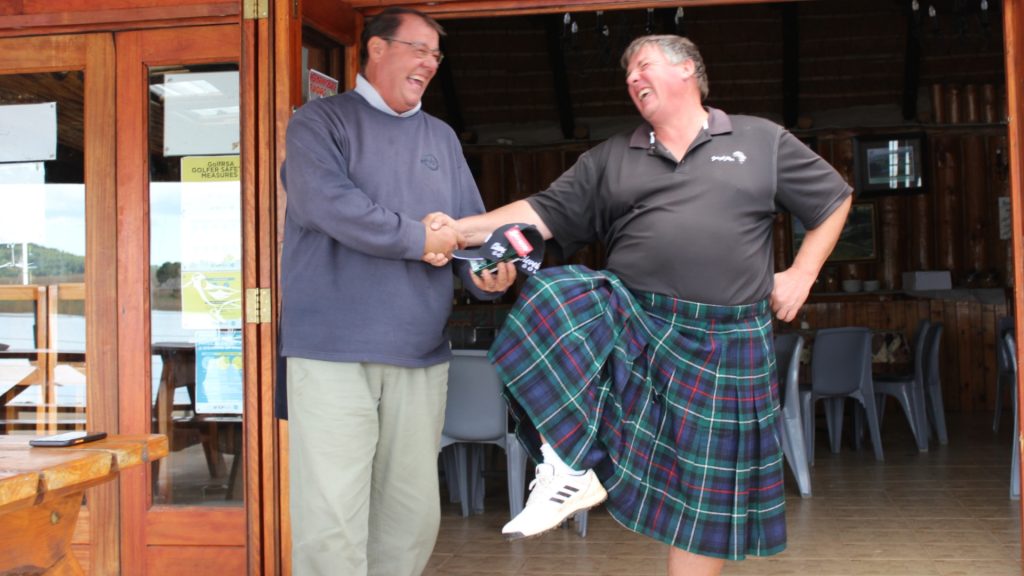 All eight players were competing for the "Nel blue jacket" and then the runner up – the Kilt. As usual, we also had a plate section, where people knocked out in the first round – automatically go through to this section.
In round one: Paul du Peez beat current club champion Gareth Larkan, Matt Reed beat Frann Scott. The Much anticipated game between Fanie van Wyk and Dieter Meyer, saw Fanie go through – 5 and 3. Gauteng based headmaster Hannes du Plessis beat Maruis Muller 5 and 3.
After a light lunch, the second round: with hotter golf to follow.
Paul went down 4 and 3 to Matt and Hannes beat Fanie 5 and 3.
In the plate section: Frann took on Gareth and had to go to an extra hole to win, with Dieter winning 4 and 3 over Maruis.
Sunday was perfect golfing weather for the finals and it was two headmasters going head to head in the finals and Frann taking on Dieter in the plate section.
The headmasters needed all seventeen holes, like a school roster all lessons in the day, to have Matt outplay Hannes. Hannes was four holes down after nine holes and reeled Matt in, but Hannes was putting on the 16th to square the hole, but missed his eagle putt. If Hannes had sunk the putt, the game would have been all square – they shook hands on the 17th, St Cathryns signature hole.
In the plate section : Mr nice guy Dieter, turned the heat on from hole one and he beat Frann 6 and 4.
All eight golfers were treated to excellent halftimes, a well prepared golf course and cold refreshments throughout the weekend.
Thank you to our Sponsors Midlands Spraychem for their support.
The Arcadia golf weekend will be played over the two courses of Greytown and St Cathryn's on the weekend 21 and 22 May 2022, and the following weekend 28 May 2022, The Farmers Agri -care monthly mug is to be played.
To book for golf please contact Piet 0832691661.