The annual Hermannsburg School Golf day played on 21st and 22nd September 2018. The Saturday field was lightning and rain interrupted, and as a safety precaution the golfers were called off the course, and the result in the result was determined over the 11 holes completed. The most welcome rain fell but resulted in only a few mm measured. Thank you to all the Sponsors, players, helpers and supporters for a most enjoyable two days at St Cathryn's. Congratulations to all the winners.
The Farmers Agri- care monthly mug is going to be played on the 13th  October 2018 and the two Inter club teams are practising for the Annual KZNGU inter club tournament to be played over the weekend of the 19 to 21 October 2018.
The course is greening up slowly with weed control on fairways and Tee boxes taking priority, and the spring treatment will commence much later as irrigation water is still in short supply.
We will be open for drinks and a bring and braai on Friday 5th of October 2018 and on Saturday we will all be supporting the HMB Bierfest.
___________________________
HERMANNSBURG GOLF DAY
REPORT FROM HERMANNSBURG
On Friday and Saturday, 21 & 22 September, golfers took to the course at St Cathryn's Golf Estate for the 26th HMB Golf Day – the 15th to be hosted at St Cathryn's. The 70 golfers who participated enjoyed some keen competition and a good, sporting spirit reigned over the two days. We congratulate Flip and Ronel Botha, who took top honours and the Gary Player floating trophy, along with a weekend getaway for them and two of their guests at the White Elephant Lodge; they were closely followed by runners-up Madala Sibiya & Xhoko Biyela, and third-placed Fanie van Wyk & Bernd Elges. We sincerely thank all our generous and loyal sponsors, the staff of St Cathryn's, our school family for the work behind the scenes, and (not least) Piet and Cathy Nel for making the 2018 HMB Golf Day yet another successful event.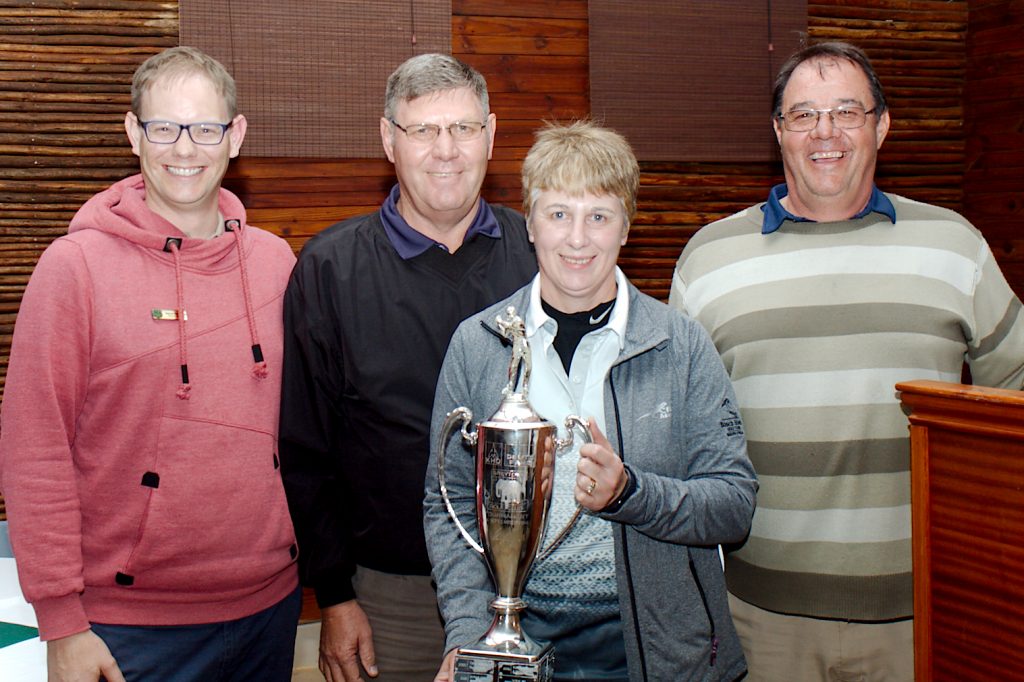 Hermannsburg congratulates Flip and Ronel Botha on winning the HMB Golf Day this year.
They were presented with their prize and the trophy by Hermannsburg's principal, Trevor Harbottle, and Piet Nel of St Cathryn's Golf Estate.